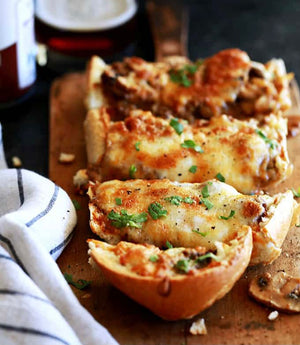 SUPER DUPER CHEESEBURGER Recipe
INGREDIETS:
2/3 c. (small can) evaporated milk, undiluted
2 lbs. Horstmann Cattle Company Ground Beef/Ancestral Blend
1/2 c. cracker meal
1 egg
1/2c. chopped onion
1 T. prepared mustard
1 and 1/2 tsp. salt
3/4 tsp. Accent
1/8 tsp. pepper
2 c. (8 oz.) shredded American cheese
1 loaf of French bread, unsliced
Brown ground beef and combine ingredients. Cut the loaf of French bread in half lengthwise. Spread meat mixture evenly over top surface of both halves of the bread. Wrap heavy-duty aluminum foil around crust side of each half, leaving top uncovered. Place on cookie sheet. Bake in 350° oven for 25 minutes (will vary depending on thickness of meat mixture.) To serve, cut slices across diagonally.