Bulk Beef- Quarters, Halves and Whole
how to reserve bulk beef and what to expect
Please contact us to inquire about our bulk beef availability.
Once the date is picked and the deposit has been sent to us, we will schedule a time to reach out and go over cut up instructions.
It takes roughly 2-3 weeks from the date picked for the beef to be cut, packaged (vacuum sealed), and frozen.
Once your beef is ready, we will set up a time and date that works for us to deliver to you.
Remaining balance is due upon delivery. Please make check payable to Horstmann Cattle Company.
---
-- For the Deposit: Please make check payable to Horstmann Cattle Company and mail it to 2199 Hwy V, Owensville, Missouri 65066. Please include your name, contact information, and home address where the beef will be delivered. --
OUR BEEF
Grass Fed/Grass Finished | Antibiotic Free | No added Hormones | Humanely and Responsibly Raised | Locally raised on our family farm in Missouri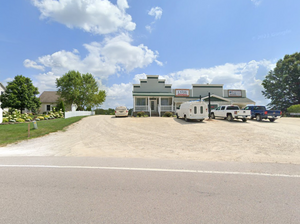 Our Butcher
We use Lyon Country Meats for all of our beef, pork, and lamb processing. They are a local, family-owned butcher shop that we work very closely with to offer the best variety of cuts for you.
Our packaging
All of our meat is Missouri State and/or Federally inspected, and is frozen upon arrival to ensure premium quality.