Sustainable vs. Regenerative Farming: Is there a difference?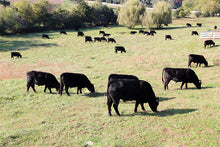 sustainable
okay
➊ Sustains environment - doesn't make environment better or worse
⁃ focused more on soil chemistry (often apply synthetic fertilizers to pastures)
⁃ Cattle are often supplemented with grain that their bodies are not designed to digest (corn, corn gluten, distiller's grain, etc.)
⁃ Utilizes recreational antibiotics and added hormones
⁃ Utilizes GMO feeds
⁃ Pesticides normally used on animals to treat flies
⁃ Animals can be kept/fed in lots
⁃ Often no diversity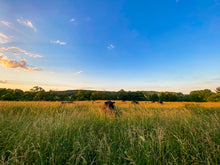 horstmann cattle company (regenerative)
best
➊ Animal welfare and soil health are our top priority - we focus on nurturing biology and feeding the soil
➋ Cattle are on pasture 365 days out of the year and are never confined
➌ Our cattle are never given antibiotics or added hormones
➍ Cattle are strictly grass-fed/grass-finished, eating what their bodies were designed to eat and are never given feeds with GMO's
➎ No harsh chemicals are ever used on our pastures
➏ We strive to capture carbon instead of emit it, leaving a positive impact on the environment
➐ Our cattle are moved at least once a day to fresh pasture to ensure fresh forage and a healthy ecosystem
➑ Increased water infiltration rate
➒ Farm is diversified with plants, microbes, wildlife, insects, and livestock
We truly believe that animals should emulate nature and be raised in accordance to how they were designed to live. The healthier the animals, forage, and ecosystem, the healthier the meat is as well as the consumer.