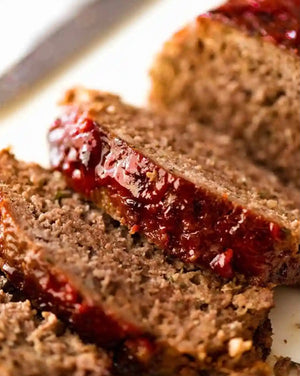 Delicious Meatloaf recipe
MEATLOAF:
1 c. Panko breadcrumbs
1 large onion, grated
2 lbs. Horstmann Cattle Company Ground Beef/Ancestral Blend
2 eggs
3 garlic cloves, minced
1 tsp. Worcestershire Sauce
1/4 c. tomato ketchup
1/4 c. chopped parsley(optional), or 2 tsp dried parsley or basil
1 tsp. dried thyme
2 beef bouillon cubes, crumbled or 2 tsp beef powder
1 tsp. black pepper
MEATLOAF GLAZE:
1/2 c. tomato ketchup
2 T. cider vinegar
1 T. brown sugar, lightly packed
Preheat oven to 350°. Oil or spray a loaf tin. Glaze: Mix together in a small bowl. Set aside. Meatloaf: Place breadcrumbs in a very large bowl. Grate over onion. Mix so the breadcrumbs are all wet. Add remaining ingredients. Mix well using your hands. Form into a loaf shape, pinching together then smoothing over creases and cracks (helps prevent cracks during baking).Transfer into loaf tin. Brush generously with glaze, using about 1/2. Bake for 45 minutes. Remove from oven and brush with most of the remaining glaze. If there is excess fat pooling, scoop/pour it off. Bake for a further 30 minutes. Remove from oven. Stand for 10 minutes before turning out and cutting into thick slices. You will probably get a bit of crumbling just on the edges of the first couple of slices, this is normal and indicative of the tenderness of the meatloaf. Ideal served with a dollop of ketchup, creamy mashed potatoes and steamed vegetables.