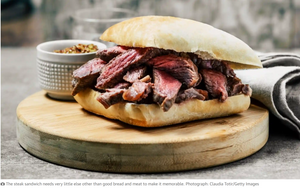 Leftover steak sandwich
INGREDIENTS:
Leftover Sirloin Steak (already cooked)
Fresh Ciabatta Bread
Swiss Cheese
Purple Onion (sliced thin)
Spinach
Fresh Thyme (add to taste)
Fresh Rosemary (add to taste)
Fresh Basil (add to taste)
Mayonnaise (1 c. or enough to lightly coat both top and bottom pieces of ciabatta bread)
Preheat oven to 350 degrees. Mix the Mayonnaise, Basil, Rosemary, and Thyme. Apply thin layer to both the top and bottom pieces of the ciabatta bread. Add thinly sliced onion and spinach as desired. Top it off with the already cooked steak* and some Swiss cheese. Place sandwiches onto a tray and place into oven for 10 minutes (or until cheese is melted and steak is hot). Enjoy!
*We initially cook our steak rare to medium rare. Once steak is reheated, it cooks to medium.